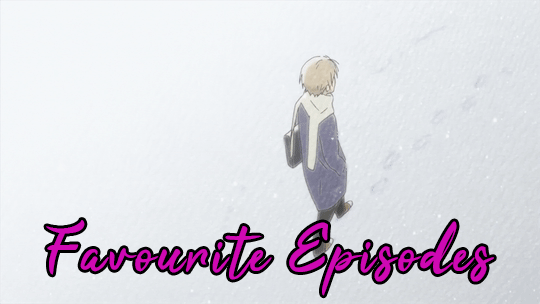 ---
Here are my 25 favourite anime episodes of all time. Each series is limited to 2 episodes so that certain shows don't dominate the list. If a show has too many standout episodes to choose from (like Natsume Yuujinchou), I just mention it at the bottom. Beware of spoilers.
---
1. K-On! - Light Music! (Naoko Yamada, Tatsuya Isihara, Yoshiji Kigami, Jukki Hanada, Reiko Yoshida)
If there's really one moment I can point to throughout my entire anime-watching career and say "this cathartic experience made everything worth it", it would be this K-On! episode. I've documented my love for K-On! in great detail in the wake of the KyoAni tragedy and this episode is just one of the many fantastic episodes brought to life by the staff at KyoAni. From the late Yoshiji Kigami's expressive animation to Reiko Yoshida and Jukki Hanada's poignant script coupled with Naoko Yamada's method direction all under the guidance of Isihara and Kigami, 'Light Music' is a one-of-a-kind episode in anime made by some of my favourite people in the industry. Since I've already written a whole essay about the magic that makes the moment so I'll just end it with this quote:
"The me of that day, you don't have to worry. You'll find them soon enough. You'll find something that you can do. Something you can lose yourself in. And a place that means more than anything to you."
2. K-On!! - Yet Another School Festival! (Naoko Yamada, Yoshiji Kigami, Mitsuyoshi Yoneda, Tatsuya Satou)
The popular answer for "best K-On episode" is usually this one and it's no secret why that's the case. 'Yet Another School Festival!' is the late Yoshiji Kigami's magnum opus. While 'Light Music!' relies more on the script, this episode is carried by Kigami's veteran animation skill. Of course, Yamada's vision for the series is what really makes this episode so poignant in the first place. A consistent theme across KyoAni works is that of love and no K-On! episode has been created with more love than this one. It's another episode I've talked about in detail in my K-On! essay and just like 'Light Music', it's an important one in terms of emotional payoff. If 'Light Music' is the height of catharsis in anime, 'Yet Another School Festival!' is the peak of melancholy.
3. Tamako Market - Singing a Love Song (Naoko Yamada, Yukiko Horiguchi, Yoshiji Kigami, Reiko Yoshida)
If you asked me what it looks like when an anime's central theme comes together perfectly and coalesces into a single unforgettable experience, I'd point you to 'Singing a Love Song.' No episode really embodies the theme that drives KyoAni works more than this one. With the series having already established a working relationship between Anko and the boy she has a crush on, Anko has to deal with the possibility of separation. The show's mantra has always been that 'Everybody Loves Somebody' but the implications behind that had always been vague up to now. 'Singing a Love Song' is deeply rooted in the concept of mono no aware and the impermanence associated with the people who we love (I say this with the risk of coming off as super snobby). It's not as if this episode is the first to deal with that topic as the absence of Tamako's mother, Hinako is felt in the love she receives from her family as well as the shopping district. The episode details the void she left behind in Mamedai's life while drawing parallels between the romance of Mamedai/Hinako and Mochizou/Tamako. The part that Hinako played in Tamako and Mamedai's life is only a memory...and a song. Koi no Uta expresses what mere dialogue could not. As the song plays over a montage of Mamedai's past, it's the first time you realize the kind of influence that Hinako had on Tamako and Mamedai. Tamako realizing that her dad once fell in love with her mother too is a simple concept made incredibly heartwarming. In the end though, Tamako Market is a happy show bursting with optimism and positivity and rather than dwell on their loss, Tamako Market's characters lead happier lives than that. Mamedai and Hinako's time may have come to an end but Tamako and Mochizou can still fall in love someday. As everyone's romance blossoms, "Everybody falls in love someday" is narrated as Tamako tells her dad that she loves him even more now after finding out how much he loved her mother and the episode ends with some old pictures of Mamedai and Hinako, enshrined as a perfect memory.
4. Haibane Renmei - Reki's World — Prayer — Epilogue (Yoshitoshi ABe, Tomokazu Tokoro)
Haibane Renmei's themes of finding forgiveness and salvation hit a climax with its final episode and there's really little to explain about why it's here. Reki's struggles throughout her life and having to watch the Haibane have their Day of Flight while she suffered in her own loneliness and slowly isolating herself from others leads to her forming a shell that nobody can penetrate. However, Rakka being able to reach out to Reki as a fellow sin-bound is proof that Reki was never beyond salvation to begin with despite her self-loathing. To recognize sin is to have no sin and when Reki finds forgiveness, she is able to have her day of flight. The many mysteries around the Haibane still remain but ultimately, those mysteries don't matter. No one really knows the reason of their existence and just like the crow saving Rakka, Rakka saving Reki means that the Haibane exist to achieve inner peace with their former lives. However, after Reki's Day of Flight, Rakka continues to serve as caretaker in her place and the cycle of death and rebirth continues. No one really knows why or what happens when Haibane have their day of flight but in the end, all that matters is that the Haibane spend their time at Old Home in the best way they can rather than dwell on the mistakes of their past. Haibane Renmei's reliability is what makes it such a fantastic show and why this episode is so high on the list.
5. The Tatami Galaxy - Last 3 Episodes (Masaaki Yuasa, Choi Eun-young, Akitoshi Yokoyama)
7. Hyouka - Dolls in the Distance (Yasuhiro Takemoto, Taichi Ishidate, Honobu Yonezawa, Shoji Gatoh)
8. Hugtto! PreCure - Odd Duo...? Emiru and Ruru's Certain Day (Junichi Satou, Izumi Todo, Yuki Hayashi)
9. Aria the Origination - To That New Beginning ... (Junichi Satou, Reiko Yoshida)
10. Aria the Origination - Surrounded by That Orange Wind ... (Junichi Satou, Reiko Yoshida)
11. Hibike! Euphonium - Festival Triangle (Tatsuya Isihara, Naoko Yamada, Haruka Fujita, Jukki Hanada, Shouko Ikeda, Akito Matsuda)
12. Hibike! Euphonium - My Euphonium (Tatsuya Isihara, Yoshiji Kigami, Jukki Hanada, Shouko Ikeda, Naoko Yamada, Akito Matsuda)
13. Shirobako - Table Flip Continued (Tsutomu Mizushima, Reiko Yoshida, Kenji Horikawa)
14. Shirobako - Did You Catch Any? (Tsutomu Mizushima, Reiko Yoshida, Kenji Horikawa)
15. Haibane Renmei - Well — Rebirth — Riddle (Yoshitoshi ABe, Tomokazu Tokoro)
16. Hyouka - The Truth of the Classics Club and Its Past (Yasuhiro Takemoto, Yoshiji Kigami, Honobu Yonezawa, Shoji Gatoh)
17. Lucky☆Star - The Yonder Here (Yasuhiro Takemoto, Shoji Gatoh, Noriko Takao, Futoshi Nishiya)
18. Sakamichi no Apollon - Now's the Time (Shinichiro Watanabe, Yoko Kanno, Art Blakey and the Jazz Messengers, Richard Rodgers, Frank Churchill)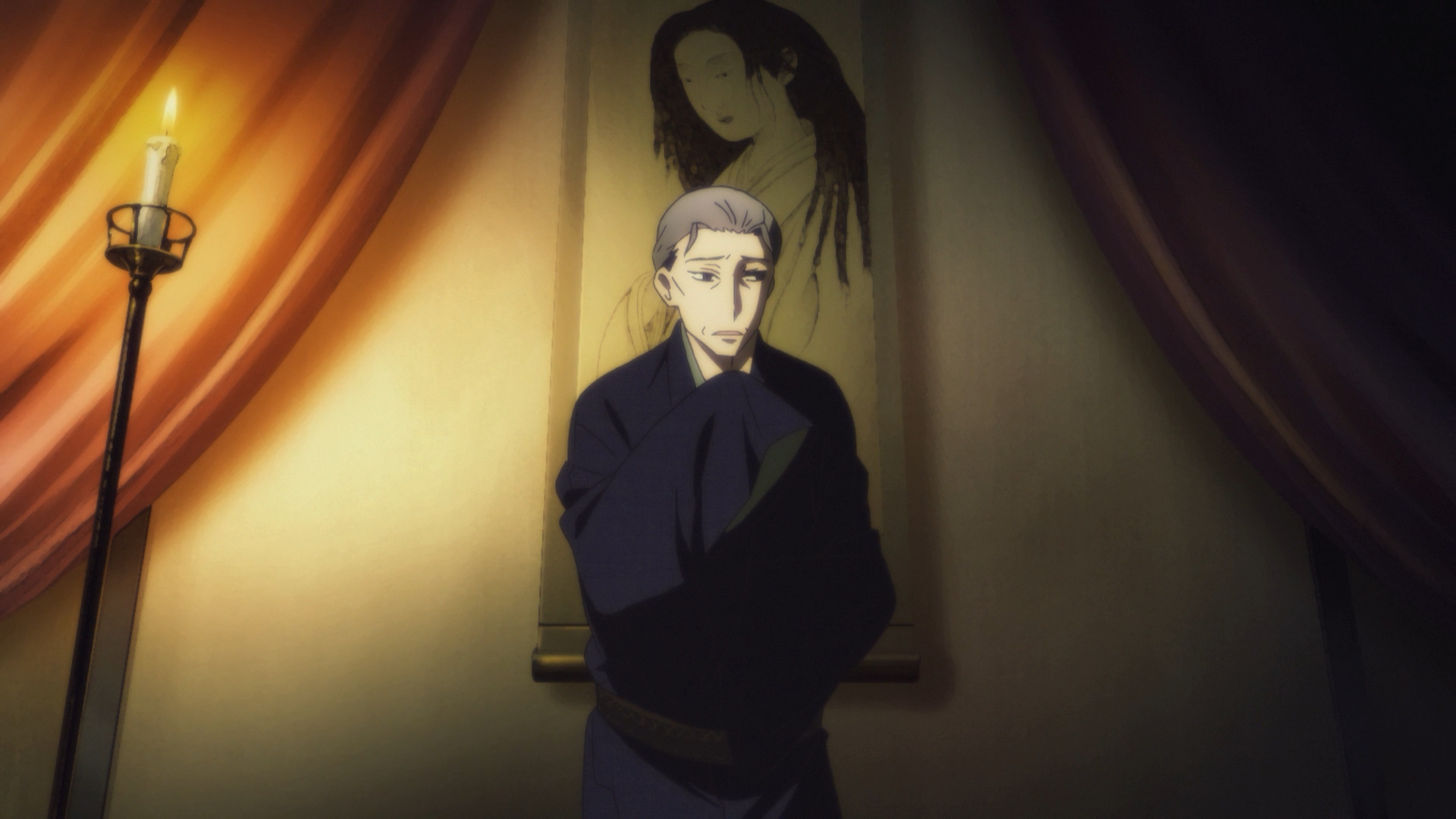 21. Mawaru Penguindrum - I Love You (Kunihiko Ikuhara, Mitsue Yamazaki, Shōko Nakamura, Tomohiro Furukawa)
22. Bishoujo Senshi Sailor Moon - Usagi's Eternal Wish: A Brand New Life (Kunihiko Ikuhara, Junichi Satou)
23. Cross Game - More Than Anyone in the World... (Mitsuru Adachi, Osamu Sekita)
24. Ouran Kokou Host Club - This is Our Ouran Fair! (Takuya Igarashi, Bisco Hatori)
25. Sakura Quest - The Kingdom of Cherry Blossoms (Souichi Masui)
---
Honourable Mentions
Chihayafuru (Morio Asaka, Yuki Suetsugu, Kousuke Yamashita)
Cardcaptor Sakura (Morio Asaka, CLAMP, Mamoru Kanbe)
Suzumiya Haruhi no Yuuutsu - Live Alive (Tatsuya Isihara, Yasuhiro Takemoto, Yutaka Yamamoto, Futoshi Nishiya)